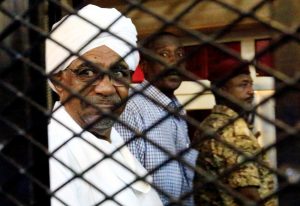 In Khartoum's Kober prison, the prison holding ousted president Omar al-Bashir and 23 of his assistants, the coronavirus is continuing to spread. There are contradictory reports that the 77-year-old former leader has contracted the virus and is in isolation. One report claimed Bashir was depressed and had rejected a test, while another states a sample had been taken from him.
Bashir and the other detainees have been accused of an array of crimes, which include involvement in the country's 1989 military coup, the killing of protesters and corruption.
The Middle East Eye reports that at least three former senior officials currently have the virus. Ahmed Haroun, an assistant to Bashir and chairman of the former ruling party, former first Vice President Ali Osman Mohamed Taha and former defence minister Abdul Rahim Mohamed Hussein have been infected. Two more unnamed officials are awaiting test results.
The former ruling party, the National Islamic Front (NIF), as well as the prisoners' families and defence team, said they hold the transitional government responsible for any harm that may come to the inmates.
One of Omar al Bashir's brothers, Ali Hassan Ahmed al-Bashir, had also been suspected of contracting the virus, along with a businessman linked to Bashir's former government, but their test results had, according to MME, been negative.
Alsharif Ahmed Omer Badur, a former leading member of Bashir's government, died in hospital after having been infected in the prison.
Prison authorities insist international standards involving medical protocols have been implemented in the prison.
Despite varying reports, Mohamed al-Hassan al-Amin, the head of Bashir's and the other prisoners' law team, said, "Bashir has been isolated from the others after the first confirmed case in the prison, but so far no symptoms have appeared on him."  Amin said, "We have asked the prosecutor general many times to free them with guarantee, as they did with many prisoners, even some of whom were sentenced to death for serious crimes, so there is clear discrimination against Bashir and other political prisoners, especially since most of them are more vulnerable to infection from Covid-19 because they are above 70."
The number of confirmed coronavirus cases in Sudan has reached 4,346, with 749 recoveries and 195 deaths.
Umm Muhammed Umar