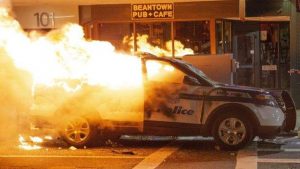 The Zimbabwean government has summoned US ambassador, Brian Nichols, to clarify comments by the US national security adviser, Robert O'Brien, that Zimbabwe was fuelling protests in the country.
Cities across the United States have witnessed days of violence sparked by the death of African-American, George Floyd, at the hands of a white Minneapolis police officer. Derek Chavin kept Floyd pinned to the ground for several minutes by pressing his knee into Floyds neck despite Floyd repeatedly pleading that he could not breathe. He later died in hospital.
In an interview with ABC News, O'Brien claimed 'foreign adversaries' were taking advantage of the continuing violent protests. He specifically mentioned Zimbabwe and China.
O'Brien claimed he had seen tweets from Chinese who were "taking pleasure and solace in the chaos in America." He did not, however, offer details on Zimbabwe's alleged role in the protests. He added all foreign adversaries involved would not "get away with it".
US ambassador to Zimbabwe, Brian Nichols is expected to explain the national security adviser's remarks.
The Herald, meanwhile, quotes Zimbabwe's Foreign Minister, Sibusiso Moyo, as saying that the US ambassador was expected to honour the summons. He did not, however, give any details about when the meeting would be held.
The African Union last week condemned the death of George Floyd, and urged the US to step up it's efforts to wipe out racial discrimination in the country.
Umm Muhammed Umar